Lever Fund's initial grant in 2016 was integral in helping our program in the DC Area take off. Having such a reputable early funder had a catalytic effect, helping us attract additional funding from other organizations.

— Selvon Waldron, Executive Director, Genesys Works National Capital Region
Spotlight on Lever Fund's Grantee, Genesys Works National Capital Region
Play his basketball season or engage in a yearlong internship at Intelsat, a Tysons Corner-based satellite services company? Seventeen-year-old Vince Abanilla debated. He chose the unique experience of working in a corporate environment as a high school student. Vince was one of the first students who applied to the Genesys Works intern program in the National Capital Region six years ago. And Lever Fund was an initial funder of the organization.
"I still talk to people who are in high school and tell them, 'You have to do Genesys Works because it was life-changing,'" he says.
Since its start in and around the nation's capital, Genesys Works has supported more than 350 students. Students spend their summers learning professional skills, such as public speaking and workplace ethics, alongside technical skills to support a school year internship in information technology or business.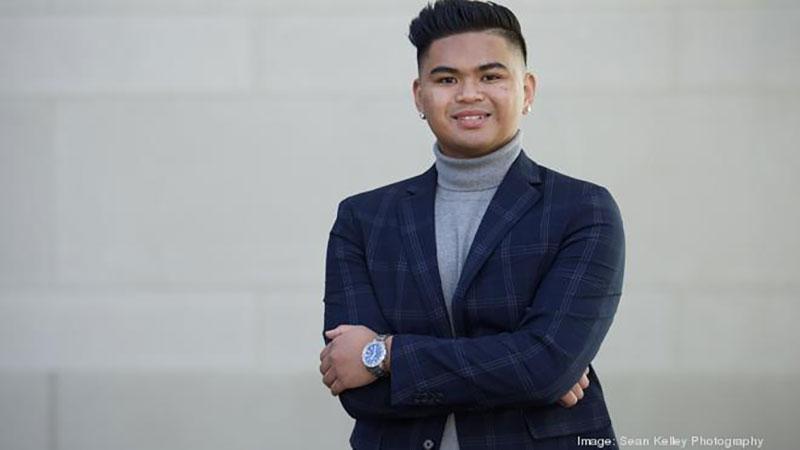 Section Heading
Lever Fund was instrumental in making it all happen with critical funding when it mattered most — first, when Genesys Works started in our region and again when internship opportunities dried up amid the Covid pandemic in 2020.
"Lever Fund's initial grant in 2016 was integral in helping our program in the DC area take off," says Selvon Waldron, Executive Director of Genesys Works National Capital Region. "Having such a reputable early funder had a catalytic effect, helping us attract additional funding from other organizations."
Vince did well and Intelsat equally liked working with him. He continued his internship outside of Genesys Works, working part time with Intelsat throughout college and then full time as an Associate Information Security Analyst after graduating. He has since taken a job with the Defense Information Systems Agency (DISA).
Vince is convinced that Genesys Works and his internship at Intelsat changed the trajectory of his life. He wanted to give back, and decided to serve as a mentor for other interns at Intelsat. He is helping bring up the next generation of successful teens with good jobs that open up careers and provide benefits.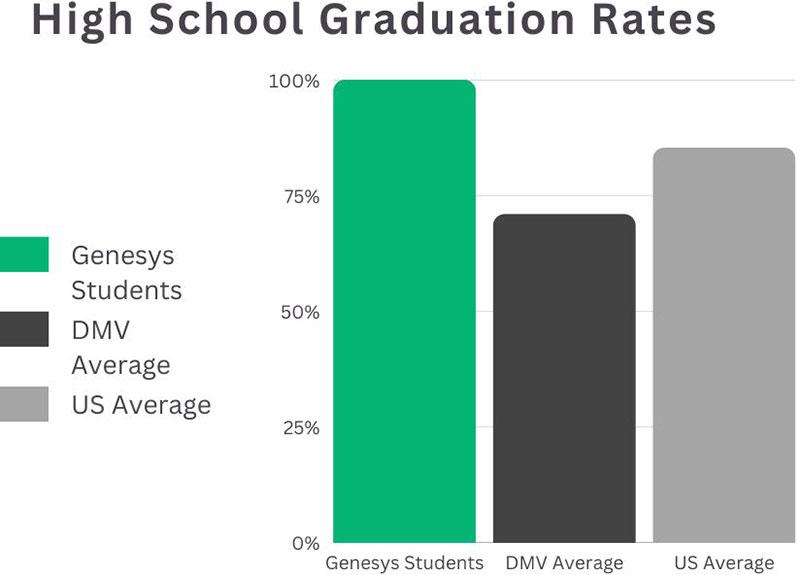 Section Heading
Thanks in part to Lever Fund's initial grant in 2016, and continued support, Genesys Works has been able to dramatically increase the number of students they support through their programs.
Although the DMV falls short of the national average rate of high school graduation, Genesys Works National Capital Region boasts an impressive 100% graduation rate for their high school student participants. Sources: www.dcps.dc.gov and www.nces.ed.gov
Message from Connie
When I wrote to you last month, I updated you on Lever Fund's new focus on pooling and investing donor funds for programs that propel 14- to 21-year-old youth from low-income families toward their first well-paying job. I explained that we decided to hone in on this particular area in the fight against poverty in the National Capital Region because it is so critically important in setting up young people for a life of success and greater financial security.
I know that our investment and the way in which we show up in support of our nonprofit partners' efforts, their leadership, and their well being is contributing to a vibrant and caring community that helps propel our young people toward opportunities and experiences that change the trajectory of their lives toward a more prosperous future.
As you can see from the impact story we've shared, Lever Fund has often made an investment at just the right time in a local nonprofit's growth trajectory. We are grateful to have played such a pivotal role in getting Genesys Works NCR established in the region when they started.
For donors, we offer you the convenience and satisfaction of investing in a group of local, high-performing nonprofit organizations which we have vetted and assessed, and have gotten to know and trust their leadership teams. Through us, you can leverage your contribution by pooling it with other donors to make an even bigger impact.
Donors We Work With
We believe in collaborative philanthropy and seek donors who are humble and interested in the work of our nonprofit partners. We attract donors who appreciate that Lever bundles up their charitable contribution with other donors, and distributes these funds to specific nonprofit partners where these dollars make the biggest impact at a given moment in time. We help create a journey for our donors that offers real fulfillment that their generosity is making a difference locally. The size of our investments for each grantee are on the order of $10K to $25K, supporting several new and existing nonprofit partners annually.
Donors who wish to become more involved — offering assistance, mentorship, internships and other help to our nonprofit partners — are welcome to talk to us. We will connect you with the opportunities that work best for you. When you see the impact of your involvement, we believe the first word that will come to mind is joy. This is the emotion that donors have told us they feel when they hear of how a young person's life has changed because they took on an opportunity offered to them and learned that they can master the work and feel a sense of belonging in that environment.
You Can Make a Difference
So as the holidays and new year are approaching, we ask you to think about the work that Lever Fund does. We welcome like-minded, compassionate, and thoughtful leaders who will join us in our efforts to bring about sustainable change that breaks the cycle of intergenerational poverty in the National Capital Region.
We ask for your help in meeting our 2022 fundraising goal of $200,000 that will be used solely to invest in our nonprofit partners. We ask that you give what you can comfortably give and forward this letter to two of your friends who will join you in supporting Lever's work. We know it's more fun to bring our friends along.
Join Our Board
We are also actively recruiting new board members. Board members help cover our overhead costs. If you are looking for board experience, a new challenge, or just a feeling of satisfaction that you are part of an incredibly powerful solution, talk to us. If you know someone who may be interested, introduce us. We welcome those of you who are willing to share your good fortune, your network, your time, and your energy. And, besides, having fun while doing good is what makes us tick and we wish the same for you. Come see what we are all about.
We are excited to engage more of you even more deeply with us in this important work. We are a philanthropic nonprofit that delivers joy. Come join us on this journey. Together we can accomplish great things.
With gratitude,
Connie K. N. Chang
Board Chair & Treasurer
Lever Fund